Sorensen family gallery
Please be patient, this page will take a while to load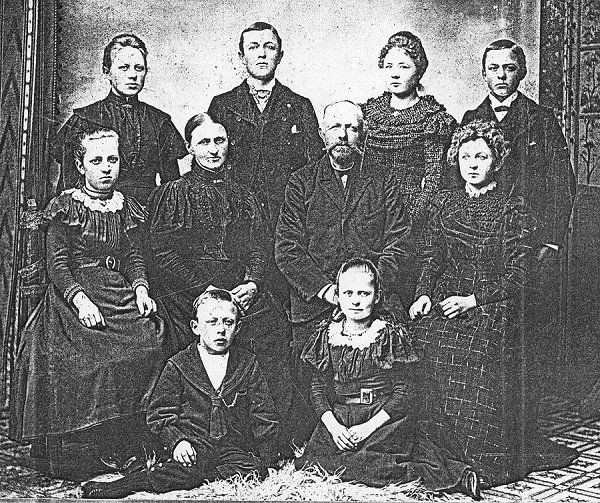 The entire Sorensen clan before being split up. The picture was taken on the 5th November 1900, when Peder and Rasmine celebrated their silver wedding anniversary. Back row left to right: Sørine Kirstine Nielsine Marie Sørensen (my g-grandmother), Christen Sorensen, later USA, Inger Marie Rasmine Herskind Sørensen, stayed in Denmark, Soren Sorensen, later USA. Middle row, left to right: Karen Marie Sorensen, later USA, Rasmine Christensen, 1852-1917, Peter Sørensen, 1842-1917, Ane Petrine Sorensen, later USA. Front row: Peter Sorensen, later Chicago, then Polson Montana, 1888-1968, and Rasmine (Minnie) Sorensen, later Butte then Polson Montana, 1888-1963.
---
| | |
| --- | --- |
| | This picture is supposed to be "one of the America-girls" with her child. As we have no pictures of Minnie as a young girl (that we know for sure), this could be any of the three girls, Minnie, Anna or Karen - if, in fact, it is one of them. |
---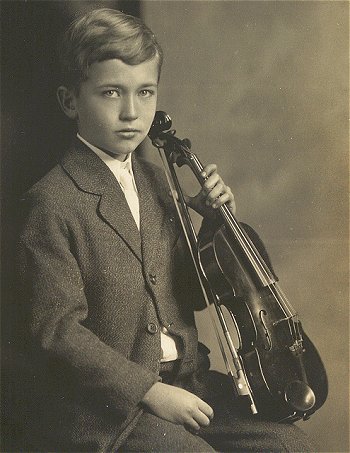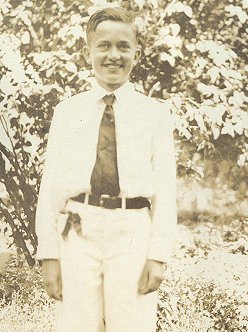 For a long while I only knew that these two pictures depicted "Uncle Peter's nephew". Well, in May of 2005 I finally got a chance to visit some of my Sorensen relatives in the USA. I spent two great weeks with my grandmother's cousin Harold and his wife Elaine north of Boston. Now, Harold doesn't have access to the internet, so it was quite by chance that he got to see this page. Hadn't we visited some of his friends with internet access, it wouldn't have happened. So, imagine my surprise, when scrolling down the page I suddenly heard Harold's exclamation: "That's me!". The pictures were taken in Chicago in 1931 and 33 respectively.
---
Peter and his sister Marie.
Peter came home for at visit in 1936. A few years before this Minnie's husband Emil came back for at visit with his family in the old country, but he also visited Minnie's family here in Aarhus.
---
Minnie and Emil's 3 girls, Edna, Emily and Elsie.
Picture from around 1927.
---
| | |
| --- | --- |
| | Edna and Elsie, late teens or early twenties. |
---
| | |
| --- | --- |
| | Minnie and Emil with one of their girls. This picture has no text, so we don't know which girl. |
---
| | |
| --- | --- |
| | Minnie and Emil with Edna and cousin George Jorgensen. George was the son of Minnie's sister Karen, and he later worked for Walt Disney making cartoons. |
---
| | |
| --- | --- |
| | Minnie and Emil with part of their family. |
---
| | |
| --- | --- |
| | Minnie with her sister Karen in their later years. Probably taken in Polson. |
---
| | |
| --- | --- |
| | Minnie and Emil in their later years. From Polson, Montana. |
---
Well, this concludes the tour of the Sorensen family gallery. If you know/recognize any of the people shown here, please get in touch - or, if you recognize anybody who's still alive, tell them I would like to get in touch with them.
---